Boris Johnson announced on the 14th June that weddings and wedding receptions can go ahead with unlimited guest limits from 21st June 2021.  
If you're currently planning a wedding, here's everything you need to know about staying Covid-secure in the weeks ahead. 
There will be no legal limits on the number of guests allowed at weddings.
Instead, the number of people at weddings, civil partnerships and receptions will be determined by how many people the venue or space can safely accommodate with social distancing measures.
This is where a Relocatable wedding marquee can help. We can install our marquees to suit the number of guests attending your wedding with social distancing in mind, preventing the need to reduce guest numbers to fit the venue.
Face coverings are still mandatory for guests during the indoor ceremony, but the couple and the officiant do not need to wear one.
There is no legal requirement to wear a face covering when outdoors at a ceremony or reception. This includes when taking place in a Relocatable marquee, provided at least 50% of the walls are open for it to be classed as 'outdoors'.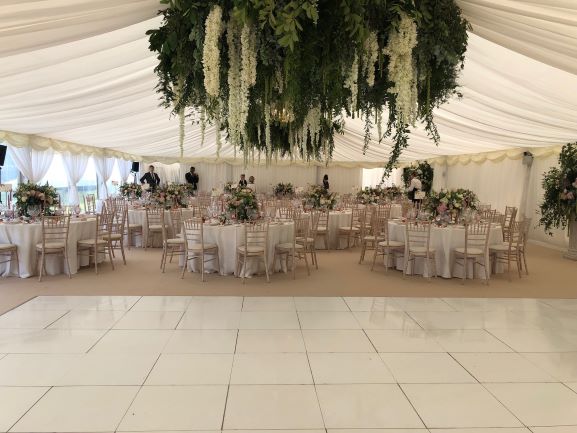 All food and drink (including non-alcoholic drinks) must be ordered, served, and consumed while seated at a table, in both indoor and outdoor venues.
Seating guests at tables can be a table of 6 from any number of households or a table of more than 6 from up to 2 households.
Other activities at a reception, including those that involve or are watched by attendees (such as cake cutting and the playing of games) can take place.
The use of a guest books, polaroid camera stations or games to be minimal to prevent being touched by many people. Hand sanitiser should be available.
Speeches should be undertaken outside or in well ventilated areas wherever possible. PA systems should be utilised to help amplify speeches without speakers needing to raise their voices
Musical performances will be allowed, amateur choirs, bands, or musicians should only perform in a group of up to 6 indoors. Outdoors, they may perform in groups of up to 30 socially distanced.
Communal singing is strongly advised against and should not take place indoors.
The bride and groom can have the couples 'first dance'.
Dancing for guests is not allowed in indoor venues. If a reception takes place on private land, and outdoors (such as a garden/marquee) dancing will be advised against but not technically illegal. 
The guidelines are changing daily and can be viewed using the link below.
https://www.gov.uk/guidance/coronavirus-covid-19-wedding-and-civil-partnership-ceremonies-receptions-and-celebrations
Consultation and quotes are free of charge, so do get in touch to see where we can help you.
Free phone 08 007 314 007 Email sales@relocatable-structures.co.uk
Covering Britain Since 1993!